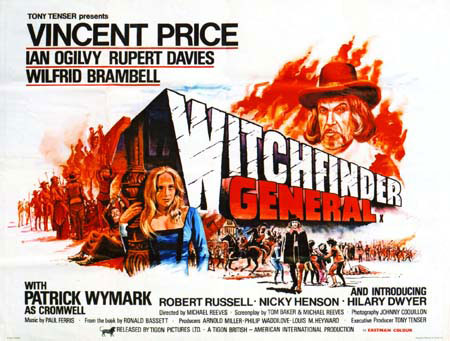 Turns out, I hated this film. Alan Bennett summed up Witchfinder General by calling it "degrading" and "morally rotten".
It may well operate on a level that I missed, but it's essentially about Vincent Price burning women. They're toasted, torched, griddled, branded, poached and fried.
When we got to the end of it, I reiterated how much I hated it. My boyfriend (whose favourite film it is) stared at me blankly. "But, it's just like Twins of Evil. You liked that."
"Yes," I replied. "But that had vampires in it."
His eyes narrowed. He may have sneered. "Is a film only any good if it has vampires in it?"
"Well, yes." Vampires are a bit like salt. They'll ginger up anything. The only thing that could possibly, in any way, have improved The West Wing is if they'd replaced the Jewish Mafia stuff with vampires.