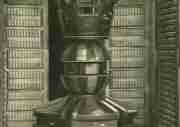 One thing I didn't expect for Christmas was a slave. He wasn't on
my Xmas list
but nevertheless, I have a slave.
He's helpfully called James, and is terribly keen to do anything I ask him to do.
Lee
finds it hilarious. "You apologise when people ask you for the correct change."
The situation is very puzzling. He's the seemingly shy young student I met at Central Station. It all started with a text message, "What are you into?"
I just didn't seem to be able to give him the answer he wanted. And then, all of a sudden, he cracked and said, "I want to be treated really badly by you. I'm a slave. I just don't think it's your thing, though."
This was a challenge. I can be aggressive. And nasty. And really quite strong-willed. Surely. I can be a master. Oh yes. Grr.
I mean, I own a whip (admittedly, I brought it simply cos it was in a sale, and I thought it was hilarious to say "Can I buy this whip on switch?"). I'd never dreamt of using it for anything other than dusting, but perhaps its time has come.
Hey-ho. It's all good fun, I suppose. The thing I was worried about was exactly what to do with him, but luckily he has lots of suggestions. Although, I really must stop saying "Goodness, are you sure?"
The phone calls are the oddest. He'll ring and announce some incredibly painful new thing he's doing and ask my opinion. "Oh... yeah... well do it some more, and quite a bit harder," seems to be the safest thing to say (I'm working at lowering my voice for this).
And some of the stuff I've managed to deflect, for the moment. I mean, really, why would I when I have a perfectly functioning lavatory?
So far, the only foot I've really put wrong is to say, "But really, wouldn't you rather just kiss?"