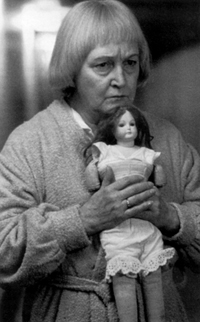 "ach! All that anal sex. In my youth, we always said the proper way in was the one with the doormat."
Mrs Druse
It took a month to finish the Kingdom sequel. After all, how often am I going to be in the mood for quirky Danish hospital horror?
But it's still quite wonderful – with ghostly messages hidden in the hospital porter's ancient porn stash, the nymphomaniac lesbian sex clinic possessed by demonic powers, a zombie staffmember, Dr Moesgard terrorised by his therapy group, and Death suddenly popping in as a character "because there's work for me".
The DVD also features the single most charming DVD special feature of all time, in which Lars Von Trier stars in a complicated dance video based on the show's theme. I can't really see Stephen Poliakoff doing the same.